Repairing and restoring your stained glass windows is a simple process with BSG
The restoration process from Bell Stained Glass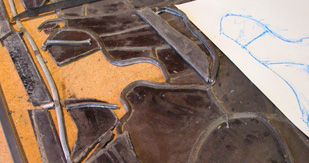 1. We begin by making a rubbing template of the existing window... we need to know how it goes together when remaking it you know!
2. The process then involves taking apart an existing window and cleaning each piece by hand before reassembling.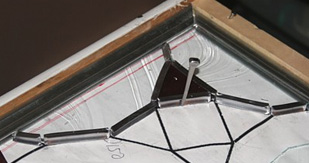 3. Any broken pieces can either be patched (if it involves a simple break in the glass) or replaced entirely if the break is worse than a minor crack. When dealing with restoration of old glass, it isnt always possible to match the glass used exactly. Our choice of repair vs replacement is based on a few factors such as degree of damage.
4. The cleaned pieces are laid out carefully on the drawing we made earlier.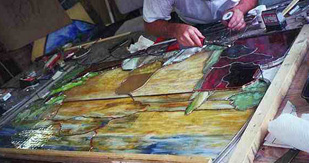 5. The panel is carefully releaded, soldered, and weatherproofed before adding brace bars
6. We also can install protective lexan (this is virtually shatterproof and it doesnt yellow in the way less expensive plexiglas does) over the outside of your window for extra protection from the elements and possible vandals. The panels are vented properly to allow proper circulation of air in and out of the area in between the lexan and glass panel
Your window will look better than it has in ages and will last for many decades!!!
Repair / Restoration FAQ's
Our windows need repair... badly. How do I begin?
The best thing would be to CALL US as soon as you gather up important information, such a pictures and extent of damage. We would then arrange a meeting to study the damage further and begin working up an estimate for the cost of the repair
How long is this going to take?
It is difficult to accurately figure it out without seeing the windows in person. Windows requiring any type of painted work will take longer than standard windows with one or two broken pieces. If you are simply looking for repairs on a couple pieces of glass, many times that can be done quickly and in one visit
Will you be able to match the window damage exactly?
When dealing with windows, epecially older ones, it is not always possible to get the exact type of glass used. In these cases we will attempt to match up the broken glass as closely as possible with glass we can get.