Join the 1000's of churches that made Bell's their choice for church windows
Bell Stained Glass, where the customer comes first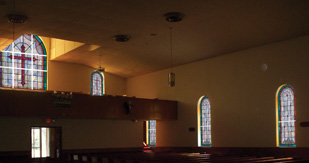 Stained glass had been a staple in church decor for thousands of years.
Why not add the elegant beauty of stained glass to YOUR church. Check out our popular designs available HERE. We do custom work too. From there, you can add decorative motifs to your window, such as DECORATIVE LIFE OF CHRIST MEDALLIONS, crosses, and diamonds.
CLICK HERE for church stained glass designs
CLICK HERE
for church stained glass medallions
Get the perfect design and colors for your church with Bell Stained Glass!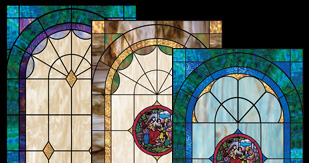 Make a new first impression with new church windows from BSG.
Bell Stained Glass offers everything needed for your new windows from the frames themselves, to the leaded stained glass panels. Don't feel like stained glass, but want some privacy in your windows? BSG offers etched glass as well. We also offer beautiful DECORATIVE WINDOW FILM
CLICK HERE for more about BSG window frames
CLICK HERE for more about BSG etched glass
We offer other services and products as well!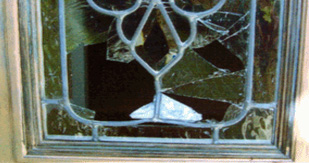 Bell Stained Glass is a full service repair and restoration specialist.
Bell Stained Glass is committed to making your church windows look new again, should they ever need it due to aging or breakage.
Do you have damaged windows, or been the target of vandalism? Bell Stained Glass can repair that damage. We also offer protective plexiglass sheeting that can be added to the outside of your windows to prevent this from happening again
CLICK HERE for more about BSG Repair/Restoration Services
Church Glass FAQ's
We will potentially be spending thousands of dollars with your company for new windows, how do I know we will be happy with our choice?
The people at Bell Stained Glass work with you every step of the way to ensure that the correct colors and designs are choosen BEFORE anything is actually made. We provide full color printed layouts sent directly to you that you can display at your church meetings. This is ideal for when you have two or more ideas to choose from.
How much are your windows?
When pricing church windows, it is difficult to accurately pinpoint exact prices, especially when dealing with varyiances in design complexity and types of glass used. Like most stained glass companies, we work on a case by case basis. Be assured, you WILL get an honest and fair quote in relation to other companies.
What do I do if I don't see anything on here that catches my eye?
Custom designs are welcome, just because we have certain designs pictured does NOT mean that is all we do. We are capeable of providing anything you are looking for, from painted glass to even etched glass. Just give us a call, we'd be glad to discuss it with you