Etched Glass windows from Bell Stained Glass are an easy way to add a little extra decor to your home
Etched glass from Bell Stained Glass is available in an unlimited number or designs!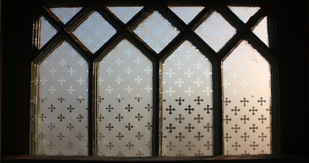 Etched glass simply uses acid or sandblasting to etch a design into a clear piece of glass.
It is a perfect way to add a little extra to your home. Etched glass can come made up in a variety of different designs, you simply bring up a design or logo for your home or business, and we will get it ready for you. CONTACT US for more information.
CLICK HERE for Home window Gallery
Etched glass gives you the privacy you need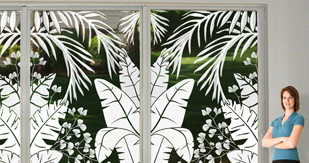 Face it, you need privacy from your bathroom window.
While there are options out there like glass block and leaded glass, etched glass is a simple beautiful way to add some design and beauty to your bachroom, giving you privacy while allowing light to flow in.
It's perfect for homes, businesses and churches!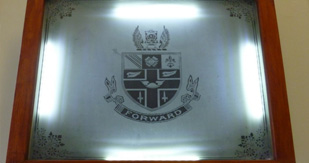 Etched glass is very versitile.
It is very popides privacy AND beauty and can be used in homes, churches and businesses.
Etching allows business names and logos to be easily etched into glass, it is a simple yet classy look. It doesnt wash away and is permenant.
If you have any questions about this, CONTACT US today
Etching FAQ'q
Where can I use etched glass?
Etched glass is the perfect solution for home windows and areas that need a little privact, as well as businesses that might want their logo etched on glas doors, or even by churches wanting something different than stained glass while being decorative. Many customers refer to it as "frosted" glass.
Can you do designs not listed here on the website
Our Home Windows Gallery Pages shows a few examples of etched glass. We welcome custom designs and work with you to give you the design that works best for your situation. From ornate decorative patterns to business logos, the choices are unlimited!
How long does it take to get an order made
Most orders generally take a few weeks to get completed, though special circumstances can affect that. Sometimes it iakes less time, and sometimes more, depending on our current workload. We do strive to complete ANY job we receive as quickly as is possible without sacrificing quality.