Stained Glass windows from Bell Stained Glass are the perfect and easy way to add a little extra decor to your home
Bell Stained Glass: the southeast's leader in stained glass since 1979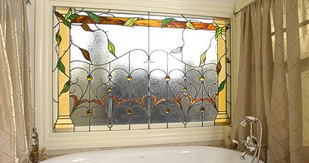 Stained glass is a timeless art.
It is a perfect way to add a little extra to your home. The great thing is stained glass is very versitile. It can be used in doors, bathrooms, kitchens... pretty much anywhere needing either a little color, privacy, or both. We can produce most any design available, not just what's listed here on our design and gallery pages.CONTACT US for more infrmation.
CLICK HERE for Bell's window designs for homes
CLICK HERE
for Home window Gallery
Add beauty AND privacy with Bell Stained Glass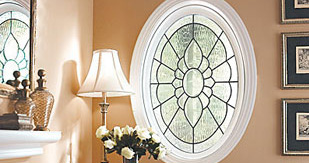 Spice up your home with a new stained glass window from BSG.
Or, if you already have a window that may be damaged, CONTACT US today. In many cases, a simple repair can save you from buying an entirely new window, depending on the amount of damage sustained
CLICK HERE for more about Bell Stained Glass Repairs
Etched glass, always an excellent choice for your window!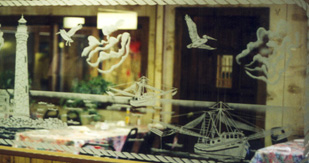 Etched glass is another option for your window.
Stained Glass, though beautiful, is not for everyone, many people prefer the etched or as they call it "frosted" look.
Etched glass provides privacy AND beauty and can be used in homes, churches and businesses.
The process involves sandblasting your design on a clear piece of glass, the end results can be breathtaking!

CLICK HERE for more about BSG etched glass
Home Glass FAQ'q
How much is my window going to cost?
When figuring out a price, its best to begin by getting an accurate measurement of your window size needed, and a general idea of what you want. An average price usually is in the $100 per square foot range. Though for the most accurate pricing, just give us a call or come by we will be glad to discuss your job with you!
Can you do designs not listed here on the website
Our DESIGN PAGE shows some of the more common and popular designs we offer. We also have an extensive, always growing GALLERY OF OTHER IDEAS. We also welcome custom designs. We can modify any deisngs you see with your own choices of colors and design modifications. The choices are unlimited!
How long does it take to get an order made
Most orders generally take a few weeks to get completed, though special circumstances can affect that. Sometimes it iakes less time, and sometimes more, depending on our current workload. We do strive to complete ANY job we recieve as quickly as is possible without sacrificing quality.