Wrought iron from Bell Stained Glass: Unbeatable Value and Quality!
Wrought Iron gives you and your family the protection they deserve!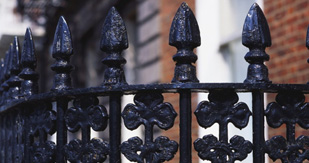 Increase the curb appeal and value of your home with wrought iron products from BSG!
We get our wrought iron direct from the supplier. By doing this we cut out the middleman and pass the savings to YOU. Doors, Fences, Stairs, and more are now a possibility. We have no limits, CONTACT US today to find out more!
Wrought Iron Doors from Bell Stained Glass give you and your family the safety they deserve, at a price lower than the competition! You work hard to provide for your family, protect that investment, and have peace of mind.
CLICK HERE for main Wrought Iron Gallery/ Design page
Wrought iron doors from Bell Stained Glass: The Advantages and specs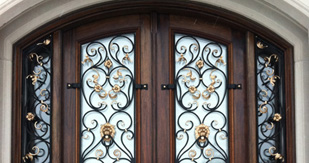 Some Details of Wrought Iron Entry Doors From Bell Stained Glass
-Made from Heavy Duty Steel: 14x14mm or 16x16 mm according to your request, all hand forged and welded
-Glass is hinged and opens for ease of access, all doors include dual pane insulated glass, window locks used
-10 year warranty against manufacturer defects on iron door itself. 5 years on the finish, and 5 years on the glass
-Heavy duty ball bearing hinges can each hold 1000 pounds of weight
-Doors Injected with Polyurethane Foam for insulation
-Doors come standard with 2" x 6" jamb if customers do not specify it, threshold is welded to the frame
-7 step blasting and coating process on the door finish alone!
-Predrilled lock holes in each door for easy hardware installation

CLICK HERE wrought iron door installation information
CLICK HERE for gallery of door options and accessories
Wrought iron in unlimited choices!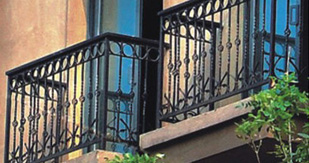 Bell Stained Glass welcomes custom wrought iron work.
In the interest of space, we can't fit every design we do on our site, because there are an endless supply of designs we can do. Check out our ever expanding GALLERY to get ideas, or email us with your own
If you have an idea, or have seen a design somewhere that you would like to mimic in your home, let us know. We have expert draftsmen in autocad that welcome any challenge you can bring them. Lead time for orders is generally in the 4-5 week range for stock designs, for custom jobs designed to your exact specifications, the lead time as around 12 weeks
CLICK HERE to contact us with YOUR ideas
Wrought Iron FAQ's
How much will wrought iron cost me?
Wrought iron is a possibility for anyone with Bell Stained Glass, we cut out the middleman to save you money. Price depends on the complexity of the design, all you need to do is CONTACT US with your job specs and design pictures and we will be glad to provide a quote over the phone or in writing. Remember we will always give you a fair price, excellent service, and the highest quality product around.
Why should I chose wrought iron for anything?
Wrought iron from Bell Stained Glass is not only beautiful, but it is specially coated to last much longer than traditional wrought iron due to advancements in technology. The coating and finishing process is a seven step process alone and comes with a five year warranty. The prices are excellent too, at BSG we cut out the middle man since we order direct from the manufacturer, resulting in savings we pass along to you!
I liked a design I saw elsewhere, can you get that for me?
Bell Stained Glass works with experts in the field of CAD design, ensuring most everything can be made by us, from ornate church crosses, to elaborate doors, and window guards. Any size is available. If you have anything you'd like to inquire about, CONTACT US by phone or email us a picture and we will get right back to you. Custom autocad drawings will take a couple days to complete.