Listed on this page are just a few of the thousands of customers us at Bell Stained Glass have helped over the past 30 years.
"We cannot begin to express the gratitude we feel after receiving our new church windows from Bell Stained Glass, the quality of their work was outstanding. The helped us every step of the process to ensure that we received the design that best suited and matched up with the rest of the church. Any church looking for stained glass windows, or murals would be foolish to overlook Bell Stained Glass"
Pastor Martin
Testimonial One
"Our church committee was impressed with the large printed picture they sent us showing what the windows we liked would look like once they were in our church, no other company went to these lengths. That printed proposal was part of the reason we choose Bell Stained Glass."
Martha White
"We received our windows quickly and they were installed professionally by them. They really make our windows stand out so much more than the solid glass slabs we were using before. Everyone is delighted at the finished product. Thanks Mr. Bell!"
Fr. Matthew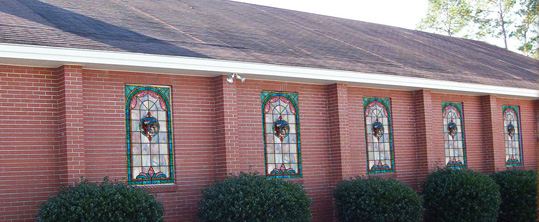 "The glass in our windows really does sparkle. It is almost like being in an entirely new sanctuary. The service and price were too our liking as well. I recommend Bell Stained Glass for anyone out there needing stained glass." Ricky Smith